Estimated reading time: 3-4 minutes
SALT LAKE CITY – When a child is diagnosed with a life-threatening illness or comes with uncertainty about how long the child will survive, Primary Children's Hospital creates a palliative care team – a group of professionals to deal with all aspects of this disease. the life of the child and his family as well.
With a big smile and a clap of the hand, everyone can tell that Emmett Bleyle is a lively and happy 5-year-old. His parents will tell you that every day of his life is a gift.
"He goes through things that I couldn't even imagine going through, and he handles them with such grace," said Rylie Bleyle, Emmett's mother.
When he was just 2.5 months old, Jace and Rylie Bleyle lived through several anxious days in primary children's hospital. And then came the shocking diagnosis.
"You have a whole bunch of things affecting pretty much his whole body – from his brain to the pancreas to the liver – just because that process isn't working properly. I mean, 70-80% of kids that they know with the diagnosis no more than one. So she was devastated. I was devastated," Jace Bleyle said.
Emmett suffers from glycosylation, a rare genetic condition. There are only about 1,200 cases worldwide – 200 in the United States and just one in Utah – Emmett.
"And there was a very big learning curve for us, but also for our doctors, trying to take care of us and trying to give us answers. We had so many questions, and you know, very, very few answers," Rylie Bleyle said, regarding the research their doctors needed to do.
They say they've lost count of how many times doctors and nurses at Primary Children's have saved Emmett's life.
He can't walk or talk and needs a feeding tube. However, everyone who meets him senses Emmett's enthusiasm for life.
"He's been lighting up the room since he was a baby. He's affectionate. He wants to be around people. He's very, very outgoing," said Jamie Seale, a nurse practitioner.
Seale has cared for Emmett since he was a year old.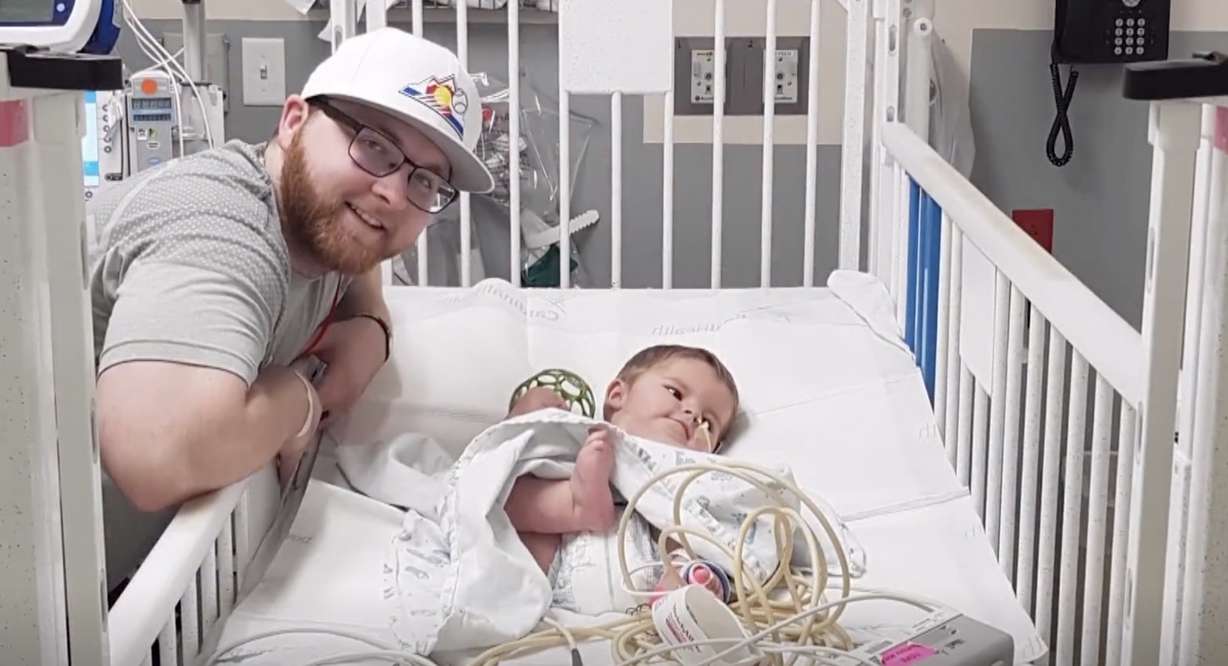 "We love making sure kids have the best quality of life possible, that they can really experience the joy and happiness that all kids really should have," Seale said.
She is part of the hospital's palliative care team, which attends to the needs of the child whose life expectancy is unknown, as well as those of the hospitalized patient's family. This group includes doctors, nurses, child specialists, social workers and a chaplain.
"And so, we have to support these families, these parents, because they are the voice of their children, and they are the ones who have to make these incredibly difficult decisions. And we don't want them to have to do it alone."
During COVID-19 and the lockdown, the Primary children's team was there for the Bleyles.
"They have this saying that 'not all heroes wear capes,' and I totally believe that being in Primary Children's Hospital," Jace Bleyle said.
"And they're the ones who are, kind of, there to pick up your pieces. Because you can't do it yourself, you know, and so they're literally second family," Rylie Bleyle said.
---
We love making sure kids have the best quality of life possible, that they can truly experience the joy and happiness that all kids really should have.
–Jamie Seale, Nurse Practitioner
---
Emmett is thriving, his parents say.
"There's something about him that people are like, 'He sees into my soul.' Well, you know, like, he's looking at you, and you know, like, he can't talk to you, but he understands you," Rylie Bleyle said.
The family credits the outstanding medical team and the care he receives from the hearts of Primary professionals.
With tears streaming down her cheeks, Seale said: "So we want to focus on this whole family and this kid. We want to make sure they have as much joy as possible."
"Joy" is the word his nurse and his parents use to describe Emmett. This, they say, is what they want for him and what he brings to the world.
×
Pictures
Last family stories
More stories that might interest you
#Family #boy #rare #genetic #condition #grateful #care #childrens #primary #school